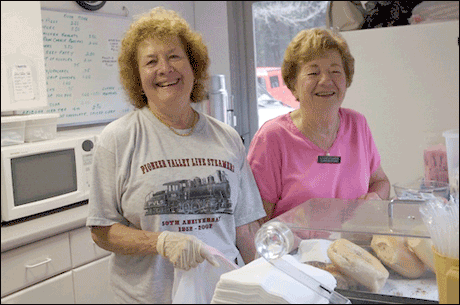 WARNING! Long Island Live Steamers can catch you off guard!
I mean how many times can you ride around a circle of track and still call it fun? Many visitors report planning their visit for perhaps an hour or perhaps a bit more and find themselves staying for the entire day!
FEAR NOT! We have planned for such contingencies. Our Snack Bar and Souvenir Store are equipped to provide you with the sustenance necessary for such an oversight in planning.

Cheerful hostesses stand ready to serve up tasty microwaveable and colds snacks to fill the empty stomachs of adults and kids alike who inevitably fall prey to the charms of real live steam. If you get parched while watching those fireboxes getting fired up, you can also secure a cool beverage at our snack counter.
Our Souvenir Shop also stands ready to equip blossoming steam engineers with caps, whistles, and gloves. Or, if your honey gets a chill while riding our rails, you can warm her with the gift of a specially decorated Long Island Live Steamers Shirt or Sweatshirt. Live Steam kids can find loads of stuff to take home as treasured reminders of their visit to Long Island Live Steamers and if your little one is ready to head for the barn and you still want to stay and play, there are loads of toys with which to bribe them to remain. So, fear not. We are equipped to keep everybody happy during their visit to LILS.
All proceeds from our snack bar and gift store are dedicated to helping to defray the operating expenses of Long Island Live Steamers.