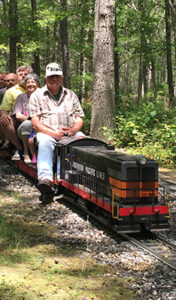 Passenger Rules
To ride the GROUNDLINE TRAINS children must be capable of WALKING to the train UNASSISTED.

To ride the HIGHLINE TRAINS children must be at least 4 years of age AND at least 40 inches tall.

No Use of CAMERAS, CELL PHONES, or other PORTABLE ELECTRONIC OR RECORDING DEVICES while the train is in motion.

No leaning or rocking of cars, sit centered on the benches.

Remain seated at all times, keep your arms & legs tucked in close and your feet on the running boards.

Stay in the center of the seat.

For their own safety, pregnant women are NOT allowed to ride.

Remain seated at all times, even if the train stops, unless directed to do otherwise by the engineer, brakeman, or other safety personnel.

If asked to detrain, please follow the instructions of Track Personnel.
Our trains carry passengers on our Public Run Days. These are typically the second and last Sunday of the month but there can be exceptions! Please be certain to check the calendar below to make sure that you arrive on the correct day.
Our trains welcome passengers beginning at 10:30 AM, the last train carrying passengers will depart at 3:00 PM on Run Days. You must obtain tickets at our Ticket Booth and donations, while not necessary, are always appreciated. You are welcome to arrive early and stay late to watch us work but please stay behind the fences and away from the tracks at all times. Feel free to ask questions. Members can be identified by their name tags.
Next Run Day
Season Calendar
May
June
July
August
September
October